Marine projects highlight the value of Europe's blue economy
On 2 June, the potential of the blue economy will be explored during a full day of stakeholder events at Green Week 2016.
Thursday, June 2, 2016 — Europe's seas and oceans provide a wide range of benefits to the economy and to our well-being. The blue economy represents 4 % of EU GDP and over five million jobs while new maritime activities are currently showing economic promise, such as sustainable fishing, coastal tourism and renewable energy.
European Commissioner for Environment, Maritime Affairs and Fisheries Karmenu Vella said:
"We cannot have a healthy economy without healthy oceans. The EU is leading the way on sustainable blue growth. We are providing an investment base for ocean energy, for biotechnology, and for sustainable aquaculture.

On marine litter we are investing in ways to tackle the problem where it starts - on land. Our circular economy action plan looks at how we can develop production processes that increase plastic reuse and decrease plastic waste"
Examples include:
Sustainable fishing: Lyme Bay Fisheries and Conservation Reserve is a Natura 2000 Award finalist where fishing is allowed as long as it's not damaging to the seabed or to nature conservation. Already, the initiative has improved biodiversity as well as socio-economic conditions for fishermen as the catch and size of fish has increased.
Sustainable tourism: Kayaking, climbing or surfing are just a few of the many adventure activities that attract visitors to the beautiful coastline of Pembrokeshire's National Park. Pembrokeshire Coastal Forum is teaching stakeholders how their livelihood relies on the healthy conservation status of the species within this Natura 2000 site. A code of conduct and good practices aimed at minimising disturbances to its rich variety of wildlife is helping protect ecosystems and the local economy, for instance, the wildlife boat trip sector worth an estimated £9.7m.
Maritime industry: The revival of salt production in Slovenia, in part thanks to LIFE, is generating multiple benefits for businesses, the local community and nature. The 3 000 tonnes of salt produced each year is dependent on artisan biodiversity practices which has employed local workers and led to 5 000 m2 of protected habitat which attracts over 50 000 visitors each year, all paying EUR 6 entry.
Renewable Energy: Oceans never stop generating energy and now the ability to tap into this formidable source of energy is finally within our grasp. The European Marine Energy Centre (EMEC) in Orkney, Scotland, has 14 grid-connected test berths and have deployed more marine energy converters than at any other single site in the world.
Investment to keep seas and oceans healthy and productive brings multiple benefits. Funding from the EMFF, ESF, ERDF, LIFE and Nature 2000 will continue to create business opportunities for the blue economy, bringing Europe more green jobs and sustainable growth.
Natura 2000 Habitats Spain EN
Sustainable fisheries for sustainable development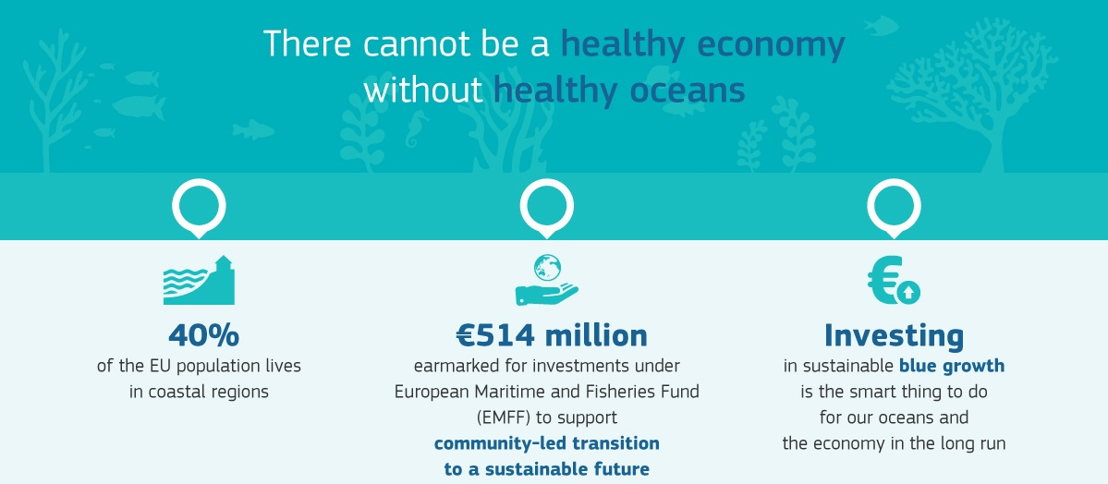 Iris Petsa Press Officer for Environment, Maritime Affairs and Fisheries