Future generations to prosper from implementation of Sustainable Development Goals in Europe
The last day of Green Week 2016 will see EU Commissioner Vella discuss the implementation of the 2030 Agenda for Sustainable Development Goals and how it will put Europe on the path to a low-carbon and circular economy.
Friday, June 3, 2016 — On Friday 3 June, Green Week 2016 will conclude with an event in Vienna entitled 'Sustainable Development Goals for a Green Future: Investing for Future Generations'.  
EU Commissioner for Environment, Maritime Affairs and Fisheries Karmenu Vella said:
"It's time to pay more attention to the planet's ecological limits, and to safeguard our life-supporting natural capital so that short-term gains do not jeopardise the heritage we leave to future generations. I will discuss with European youth organisations about how we can collectively succeed in delivering the Sustainable Development Goals. Together, we can lay the foundations for a greener and more prosperous future."
The 2030 Agenda for Sustainable Development is a plan of action that sets out a vision of promoting prosperity while protecting the planet. To achieve this, everybody has a part to play – governments, the financial sector, businesses and citizens.
Young people are already contributing through politics (European Youth Forum), or training (SusCon - Sustainable Construction) while many others are helping through voluntary work and campaigning in LIFE projects like BulPlantNet, Surfriders, Plastic-s-kills. They can also help drive Europe to a more circular economy by supporting sustainable ways to produce and consume goods.
But collective actions need to be taken today if we want to shape a sustainable future. This movement will be built on investment that integrates economic opportunity with environmental concerns. Funding from EFSI, ESIF, and Horizon 2020 will support the next generation's green entrepreneurs and innovators. Furthermore, this will provide young workers with the green skills they need to generate growth and jobs and will also make businesses consider environmental and social impacts in their investment practices.
The 2030 Agenda for Sustainable Development has the power to make a greener future a reality. The change is within our reach, we just need to ensure steps are taken to embed sustainability into our way of thinking.
EU Switch to GREEN: Building partnerships in developing countries for a Great Green World
UNDP - Connecting the Dots for People & Planet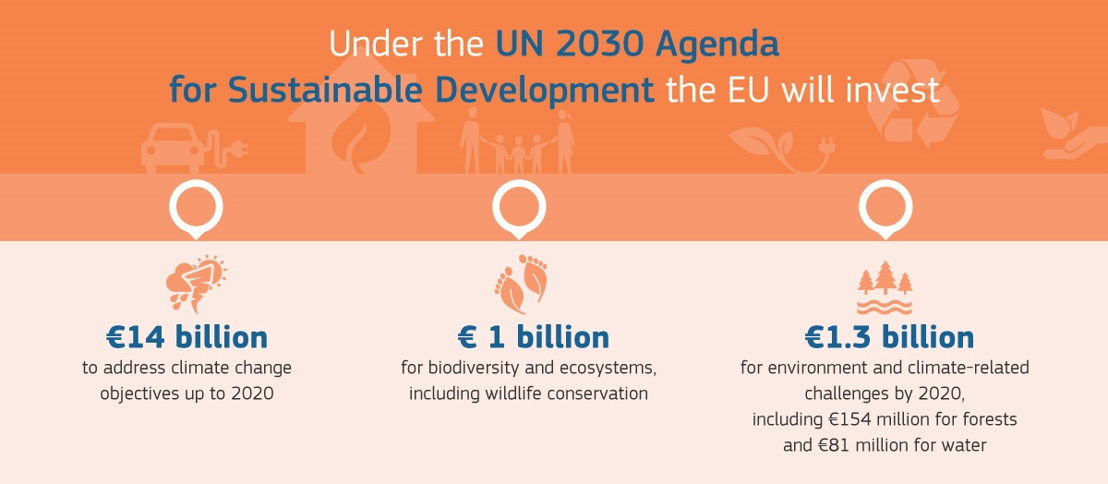 Iris Petsa Press Officer for Environment, Maritime Affairs and Fisheries