Vice-President of the European Commission speaks on investing greener
European Commission Vice-President Jyrki Katainen will speak at Green Week in Brussels about how the European Fund for Strategic Investments (EFSI) can mobilise finance for green projects.
Wednesday, June 1, 2016 — Investment is a key element for a successful transition to low-carbon, circular economy. On June 1 2016, Vice-President Jyrki Katainen and key stakeholders will discuss how we can improve access to finance for European companies in green sectors to accelerate the transition.
Speaking ahead of the event, European Commissioner for Environment, Maritime Affairs and Fisheries Karmenu Vella said:
"We are moving ahead with green finance but more can be done to support promising projects and replicate the positive examples across Europe. Business culture has to shift towards sustainability, from the tiniest of SMEs, all the way up to fund managers. For the transition to happen we need to give incentives and shift towards a financial system that considers environmental impacts when making decisions."
Over the past two decades, green investment funds have accounted for just 2-3 % of global investment. The EU is looking to stimulate green investment by funding innovative solutions through the EFSI as well as the European Structural and Investment Funds (ESIF), or dedicated instruments such as the Natural Capital Financing Facility (NCFF) or LIFE. Mobilising access to financing for green projects is just part of the equation. Financial markets are suboptimal and at risk if we don't make them more sustainable. To secure growth in the long term and facilitate transition to circular economy the whole financial system needs to evolve and systematically consider environmental impacts in all investment decisions.
The circular economy is one promising sector to develop new sources of sustainable jobs and growth. Entrepreneurs can specialise in the reuse and recycling of certain products while large companies can start reusing resources to cut down costs, find new revenue streams and improve their environmental footprint. And it's already proving its worth.
On 1June, a group of CEOs will make a brief press statement together with Commissioner Vella about the retail sector's commitment to invest in a more circular economy. They are part of the Retail Forum, a multi-stakeholder platform set up in order to exchange best practices on sustainability. With actions like this, more private finance will be mobilised through public support, in turn giving banks more confidence to fund green projects, and, ultimately, facilitate the transition to a circular economy and stimulating job creation in Europe.
Circular Economy… it's the way forward
The Juncker Plan for Investment in Europe: What is the EFSI?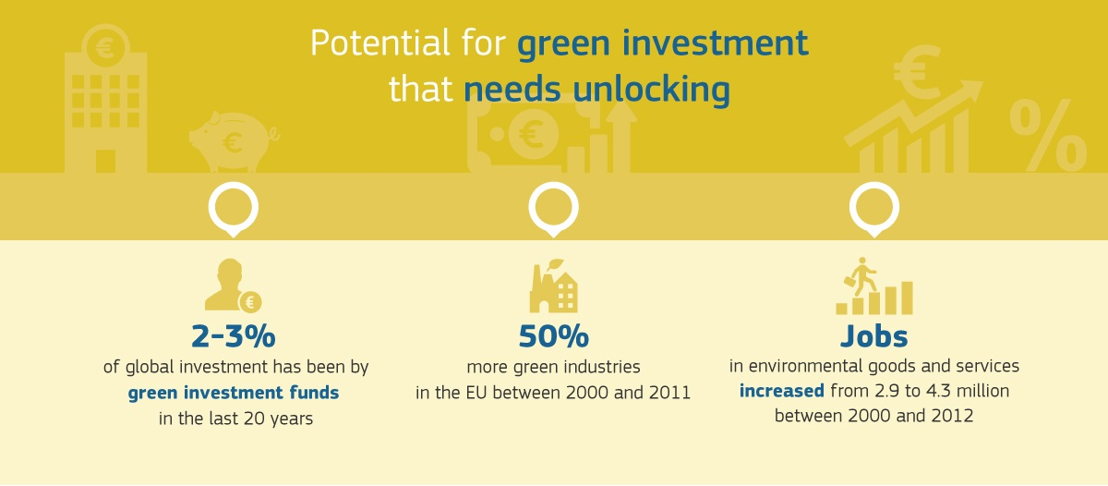 Iris Petsa Press Officer for Environment, Maritime Affairs and Fisheries